Subjects
St Matthew Academy offers a diverse range of curriculum subjects, both academic and creative. Please use the sidebar to navigate to the subjects offered at Key Stage 3 and Key Stage 4.
Below are the allocations of teaching time in hours per subject in each year group.
Key Stage 3:
There is a combination of setting and mixed ability classes within the KS3 curriculum. There is a heavy emphasis on differentiated teaching and resources to ensure that each pupil is fully extended. Regular and consistent assessment and tracking of pupil progress across the curriculum means regular pupil movement between sets.
All pupils study the core subjects of English, Mathematics, Science, Religious Education, Geography, History, a language, PE and PSHCE.
Other subjects are taught on a carousel in Years 7 and 8. Pupils will study all of these subjects on rotation: Art and Design, Design and Technology, Textiles, Food Preparation and Nutrition, Dance, Drama, Music and Computer Science.
In Year 9, pupils are able to choose two of the carousel subjects to continue with as part of the 'mini-options', along with the PE option and Business Studies.
The tables below show how many hours each subject are taught in Years 7, 8 and 9.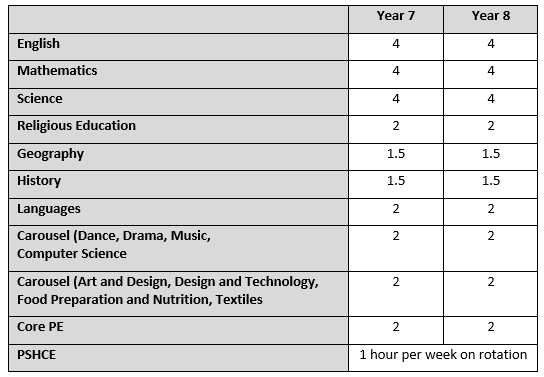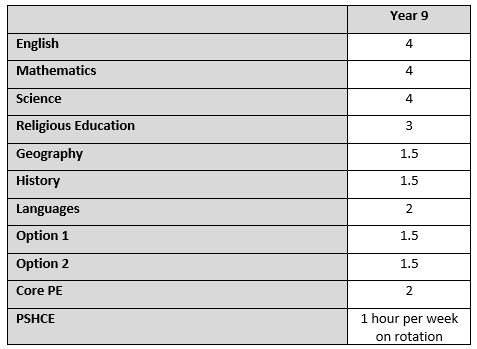 Key Stage 4:
Almost all pupils follow subjects at Key Stage 4 which lead to the E-Bacc qualification: (English, Mathematics, Combined Science, History or Geography and a Modern Foreign Language).
Other options subjects at Key Stage 4 include Art and Design, Business Studies, Computer Science, PE, Drama, Product Design, Music, Textiles, Film, Food Preparation and Nutrition, Photography and Vocational Sport.
Pupils in set 1 for Science follow the separate sciences pathway and will complete separate GCSEs in Biology, Chemistry and Physics. All other pupils will follow the Combined Science specification, which is the equivalent of two GCSEs.
Pupils will sit their GCSE in Religious Studies in Year 10.
The tables below show how many hours each subject are taught in Years 10 and 11.