Subjects
St Matthew Academy offers a diverse range of curriculum subjects both academic and creative. Please use the sidebar to navigate to the subjects offered at KS3 & KS4
Below are the allocations of teaching time in hours per subject in each year group.
KS3
There is a combination of setting and mixed ability within the KS3 curriculum. There is a heavy emphasis on differentiated teaching and resources to ensure that each pupil is fully extended. Regular and consistent assessment in tracking pupil progress across the curriculum means regular pupil movement between sets.
Pupils study Spanish or French in year 7 but in year 8 pupils study only Spanish.
Food Technology, RM, Textiles and Art are taught on a carousel as are Dance, Drama, Music and Computing. Each subject is studied within each academic year.
PSHCE is delivered during 6 discrete days when the normal timetable is suspended.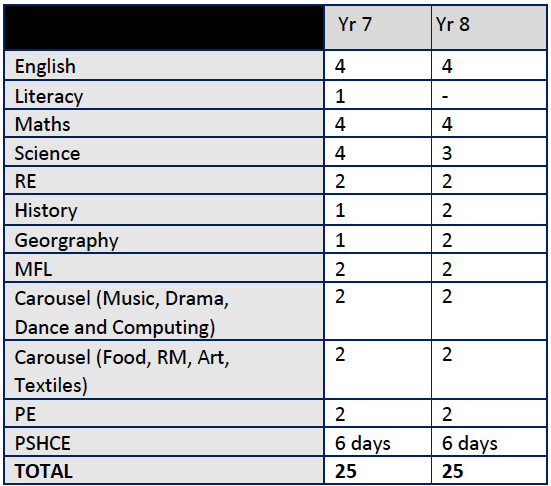 KS4
Almost all pupils follow subjects at Key Stage 4 which lead to the E-Bacc qualification: (English, Mathematics, Combined Science: Biology, Chemistry & Physics, History or Geography and a Modern Foreign Language).
PSHCE is delivered in six discrete days, when the normal timetable is suspended.
Option subjects at Key Stage 4 include Art; Business Studies; Geography; History; Computer Science; PE; Drama; Product Design; Music; Textiles; Film; Food and Nutrition, IFS and Health and Fitness.
Pupils in set 1 for Science follow the triple science pathway and will complete GCSEs in Biology, Chemistry and Physics.
This year pupils will sit their GCSE in RE in year 10 (early entry) and will therefore have a 26 period week with a Maths lesson taking place during Wednesday Period 6.