Art, Design & Technology
The Art Design and Technology department at St Matthew Academy consists of an inspiring, energetic and motivated team. It consists of seven members of staff, two of which are specialised technicians. All have a vast array of expertise and subject knowledge. This adds a wealth of support and understanding to the team as we continue to aim high. Within this group of excellent teachers, we have a range of experience, from individuals with many years of dedicated experience to those who are at the early stages of the professional journey in teaching and are ambitious to make the difference to their pupil's education.
The department is made up of five subject discipl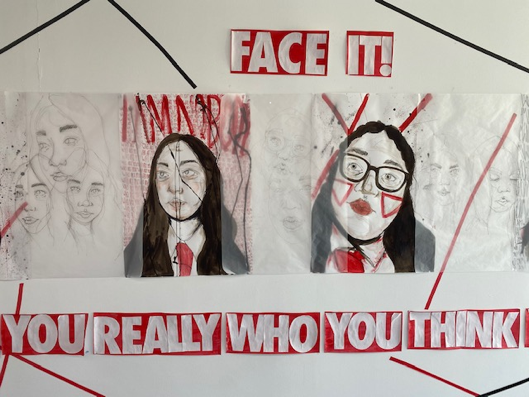 ines, which include Art, Design and Technology, Food Preparation and Nutrition, Textiles and Photography. It is well resourced and has developed good links with Christ the King sixth form college. All departments work collaboratively and share good practice and resources. As an all-through Academy, we also benefit from a close relationship with our primary colleagues allowing even further knowledge and experience to be shared readily and deliver specialist lessons to the younger years.
Our recent results demonstrate how committed and diligent our pupils and department are. Our three-year trend for GCSE grades 9-4 shows a rapid increase in outcomes which we wish to build upon further this year. Art Design and Technology GCSE contributes well to the Academy Progress 8 score of +0.53 also highlights our desire to ensure that all pupils achieve the highest possible grades and further supports our mission in supporting pupils to 'let their light shine.' The support and guidance we offer to all year groups shows the care and dedication that we as a department hold for the pupils here at the Academy.
| Subject | GCSE OUTCOMES | 2017 | 2018 | 2019 |
| --- | --- | --- | --- | --- |
| Art | 9 to 4 grades | 88% | 88% | 100% |
| Design & Technology | 9 to 4 grades | 40% | 83% | 94% |
| Textiles | 9 to 4 grades | 50% | 88% | 100% |
| Food Preparation & Nutrition | 9 to 4 grades | 25% | 50% | 60% |
The team is highly dedicated to encouraging students to make considerable progress, achieving success and learning transferable skills and knowledge within each subject area. The learning environment shows that pupils are inquisitive, reflective, creative and eager explorers who enjoy all aspects of the exciting projects the curriculum has to offer. Innovation, dedication and commitment to learning are a priority, the staff have high expectations of all students, acknowledging the fact that all learn in different ways and are supportive of their needs.
The department tackles wider issues and continues to keep up to date with technological advances, often collaborating on projects and venturing out to source new materials and information together. Good practice is shared amongst all staff and all contributions are valued. The department makes every effort to be professional, informative and organised by demonstrating structure and consistency whilst being efficient within the working environment.
We are committed to helping all students' progress, develop and achieve their full potential in a fun, positive environment. Often integrating opportunities to bring learning life through the varied topics and out of school learning experiences. Every individual is valued and encouraged to build good relationships, show mutual respect and demonstrate positive attitudes towards their learning and to all staff within the academy.
We promote an educational culture which is diverse, creative, experimental, scientific and technological whilst providing some elements of vocational learning to raise the aspirations of young people of all abilities. As a result, educating them to the highest measurable standards. We pride ourselves with equipping young minds for life and work in a creative field and provide opportunities for this to be realised in the classroom through a sense of awe and wonder with the skilled outcomes they produce.
We are excited about working with someone who can join the team and provide subject knowledge, cultural influences and be an inspiration to the young people within our academic community providing a meaningful experience to their future journey in this ever-changing, modern technological world. If you wish to come and join this rapidly improving team and be a part of our journey to outstanding then we would very much like to hear from you.