Alex - Media and Communications Pathway Lead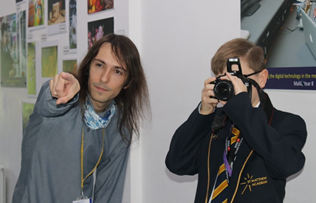 I joined St Matthew Academy in January 2017 as a Learning Resource Centre Support Assistant and part of a two-person library team. My role included working with KS1 and KS2 as a librarian and with KS3 and KS4 during literacy lessons, but was predominantly supporting with homework and literacy during lunchtime and afterschool.
After expressing an interest in film in 2018, I was delighted to be given the opportunity to work with the Film Studies department, supporting with practical coursework and in-lesson film analysis. Collaborating with such a nurturing and positive department improved my confidence in the classroom and allowed me to gain invaluable teaching experience without ever feeling overwhelmed by the challenge. My role within the Film department continued to grow between then and 2020. I was made to feel valued, appreciated and integral to the success of the pupils. I gained experience in lesson planning, and was encouraged to try out team teaching and leading in lessons; which I thoroughly enjoyed.
Throughout this time, St Matthew Academy also gave our library team the freedom to develop and expand the scope of our roles in the Learning Resource Centre; leading literacy competitions, organising both internal and borough-wide literacy events, and working alongside the hugely supportive Secondary Literacy Coordinator to implement initiatives to better support pupils. This eventually lead to me becoming a Learning Resource Centre Manager in July 2020 and been given further opportunities to branch out and assist with GCSE Photography, as well as to work with the Film Studies Lead to create the new Y9 Film Studies curriculum.
In September 2021, with this huge range of gained experience in multiple areas during my time at St Matthew Academy, I was offered the role of Media and Communications Pathway Lead. I now run a media scholarship which has given me the chance to be innovative, imaginative and to inspire 3 year groups of extremely enthusiastic, passionate and creative pupils, as well as gain experience in organising media based trips and visits from industry specialists. I also continue to work closely with both the Film and Photography departments.