Louise - Art & DT Teacher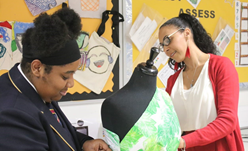 I started my journey back in 2003, where I followed the PGCE route into teaching. I brought my love of design and creativity to a new audience, using my degree in Design Studies, my aim was to get young people to think in new ways and teach them how to be creative.
My teaching career has spanned across the past 17 years, I have taught a range of subjects within the creative sectors including Visual Arts, Design and Technology, Food Technology, Photography, Graphics, Fashion and Textiles. I started working as Head of the Design and Technology Faculty in St Matthew Academy in September 2017 and quickly worked with my team to redevelop projects which engaged and enthused pupils.
The academy has been very supportive with the development of all pupils' artistic abilities, over the years the academy has invested time in projects, which have encouraged pupils to demonstrate creative thinking. Pupils have come together as a community through our innovation days, to create pieces of art which are displayed around the academy. Pupils who have taken a subject within the department have flourished year on year, which has been evident with their imaginative outcomes displayed during the end of year showcases and exhibitions.
Here at SMA, staff's professional development is a priority, all teachers and support staff attend twilight sessions, which provides an opportunity to share best practise. This has been a beneficial learning environment, allowing my thoughts and ideas to be communicated and valued. The academy continues to provide me with opportunities to explore the pedagogy of teaching and learning through CPD practice and through becoming an Impact Coach. I have had the pleasure of mentoring several NQT's throughout my years here and continue to support ECT's and other teachers within the profession using instructional coaching methods.
As a teacher at St Matthew Academy, I am in a very fortunate and unique position, I have had the privilege of teaching pupils within my local community and have had the pleasure of working in a school which has guided my own children through their journey in education. I am able to work alongside specialist professionals who show they have the children's best interest at heart. St Matthew Academy continues to be a place of personal growth for me and one which I feel embeds an ethos centred around nurturing and caring for others. Its values encourage pupils to be the best citizens they can be, which will put them in good stead for their future endeavours.