Verona - Assistant Headteacher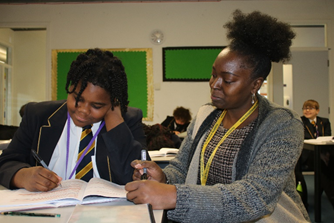 I joined St Matthew Academy in 2014 as Head of English. I am proud to have led such a dynamic, creative team, in which each teacher is passionate about the teaching of English! During my time in this role, I have been intentional about creating an English curriculum that is rich in cultural and social diversity, that encourages our pupils to use their voice as an expression of self and to take a stand, and that teachers have high expectations of what our pupils are able to achieve.
I have always had a passion for supporting teacher development, so, in 2017, when I was offered the role of lead mentor for NQTs and trainee teachers, I gladly accepted it. Having the opportunity to support teachers at this very early stage of their career has been an honour! Over the four years of being in this role, I have had the opportunity to mentor and train over twenty teachers; each one bringing with them a different set of skills, talents and ideas to enthuse the pupils in their classrooms. Many of these teachers have progressed on to being very successful classroom practitioners and some have taken on middle leadership roles.
I have also worked alongside the Equality and Diversity working group. This group was created in response to the wave of anti-racist protests in 2020, following the killing of George Floyd. As part of this group, we have introduced changes to our Key Stage Three curriculum, all teachers have received racial literacy training, and we have introduced 'Be Brave', a toolkit for engaging in courageous conversations about discrimination, equity and sharing our lived experiences.
Today I am proud to be one of the Assistant Head Teachers; thankfully, my new leadership role still involves developing early career teachers and working to drive forward the work of the Equality and Diversity Group, but now my leadership extends to whole school staff development and training.