Drama
'We must all do theatre, to find out who we are, and to discover who we could become' - Augusto Boal
Drama at St Matthew Academy is a highly creative, collaborative subject, which is well-regarded from year 7-11. The subject has an important role to play in the personal development of our pupils by enabling them to explore themes and issues in a practical and imaginative way. It is an expressive art form that will allow you to develop transferrable skills, such as teamwork, confidence, public speech and empathy, which will make you extremely attractive to future employers.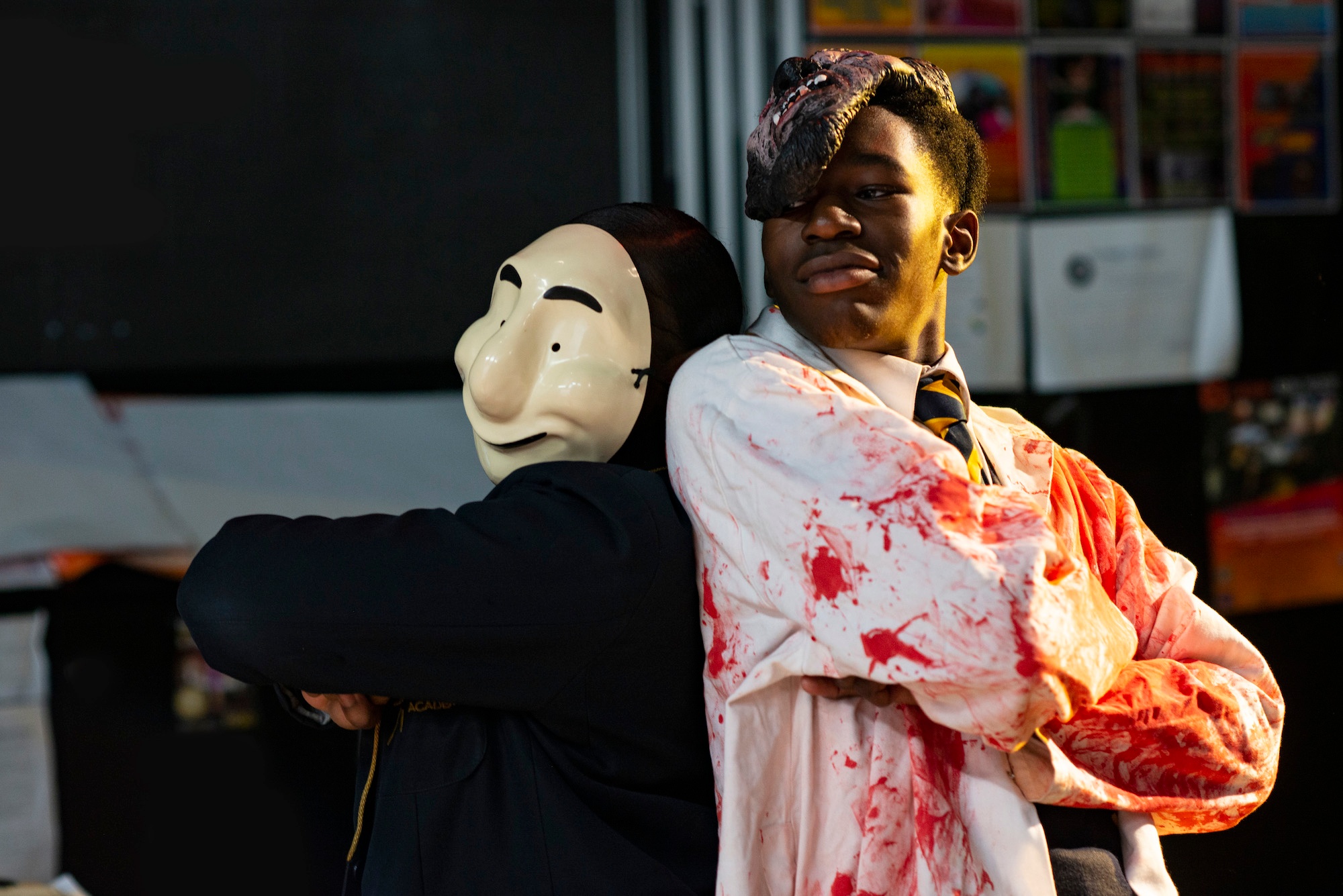 Drama stimulates the imagination and allows pupils to explore issues and experience e.g. in a safe and supportive environment. It is vital to create an atmosphere of security, trust and concentration. Drama promotes self-esteem and provides all pupils with a sense of achievement regardless of academic ability. It's about social skills, communication skills and having fun - we learn by doing!
Lessons take place in a purpose built Drama Studio with specialist equipment. Pupils are actively encouraged to participate in performances both in and beyond the school environment. The department works closely alongside other areas of the Performing Arts to produce innovative and highly popular multi-disciplinary productions.
Key Stage 3
St Matthew Academy Drama Department delivers Drama in a creative carousel with a variety of other subjects. Each student is able to study four schemes of work during year 7 and 8, which aim to introduce them to the set of skills needed for further study at GCSE and higher. As it is a practical subject there is very little written work at Key Stage 3 but pupils will be assessed on performance skills.
Pupils work mainly in groups to create drama pieces in response to stimuli. There is also an element of script reading and writing, which will develop their literacy skills. This work is then performed or presented to an audience followed by plenary and evaluation. The curriculum is delivered and towards the end of the scheme of work a theme is given to which they create performances and are assessed on the skills learnt.
If pupils have a particular flair or interest in the subject they are encouraged to attend Drama Club and participate in the various extra-curricular projects throughout the year.
Year 7:
| | | |
| --- | --- | --- |
| Year 7: | Module: | Assessment: |
| Carousel 1 | Introduction to Drama | Practical |
| Carousel 2 | Silent Movie | Practical |
Year 8:
| | | |
| --- | --- | --- |
| Year 8: | Module: | Assessment: |
| Carousel 1 | Crime & Punishment | Practical/Written |
| Carousel 2 | Script Work | Practical |
Key Stage 4
St Matthew Academy Drama Department delivers GCSE Drama over a three-year course. The course is made up into three units which include performance and written assessment. All pupils of the school can opt to take GCSE Drama (even if you have not had performance experience before). Options for Acting and Technical candidates are available.
You will be expected to visit the theatre at least three times during the three-year course.
GCSE Drama involves the study of plays, developing new techniques and learning about different styles and genres. You will develop a good knowledge of theatre history and understand Drama terminology and expressions. The course requires hard work, focus and commitment but most of all love and passion for the subject.
Following a course in GCSE Drama will enable pupils to:
Actively engage in the process of dramatic study;
Work imaginatively and creatively in collaborative contexts, generating, developing and communicating ideas;
Reflect on and evaluate their own work and the work of others;
Develop performance skills;
Prepare and present scripted and unscripted material.
Assessment
The final grade in Drama will be based on three units:
Unit One (DR1) – Devised Practical Performance (40%)
Unit Two (DR2) – Performance from a Text (20%)
Unit Three (DR3) – Written Examination with a 'Live Theatre Review' (40%)
The aim of the department is to ensure all pupils achieve and work to their full potential. During the course, we hope all pupils gain confidence in performance work and further their knowledge of the subject leading into 'A' Level Theatre Studies or BTEC Performing Arts.
There are numerous careers available from this subject:
Performance, Acting, Drama Therapy, Stage Management, Set/Costume/Lighting Designer, Teaching, Directing
Examination Information link and Useful Information:
BBC Bitesize
http://www.bbc.co.uk/education/subjects/zbckjxs
Bertolt Brecht Techniques.
http://www.dramaclasses.biz/bertolt-brecht-techniques-and-factsbertolt-brecht-techniques-and-facts
Eduqas Drama.
http://www.eduqas.co.uk/qualifications/drama-and-theatre/gcse/
Frantic Assembly:
https://franticassembly.co.uk/about
Kneehigh:
http://www.kneehigh.co.uk/page/about_kneehigh.php
Lewisham Youth Theatre Company:
http://www.lewishamyouththeatre.com/
Shakespeare Monologues:
http://www.monologuearchive.com/s/shakespeare_william.html
The London Theatre:
http://www.thelondontheatre.com/
What Is On Stage:
http://www.whatsonstage.com/west-end-theatre/shows/
Enrichment and Extra-Curricular Activities:
We are always looking at ways of extending and enriching pupils understanding and appreciation of the subject. You will learn how to use a variety of theatre techniques and styles in order to shape and present your work. You will hone your skills as an actor, designer and director to create exciting pieces of theatre. You will have to opportunity to attend a variety of workshops and watch inspirational theatre performances in order to shape your own work.