Curriculum
At St. Matthew Academy, we believe that children have the right to a well-rounded, broad and balanced curriculum that allows them the opportunity to develop subject specific expertise as well as pursing their own developing interests and talents. We believe in creating a curriculum which is both knowledge and experience rich, allowing children to see the relevance of what they learn in and outside of the classroom in the real world around them.
Our curriculum is tailor made for our school and our pupils. We develop a set of core subject specific themes through each subject as children progress through the school, enabling them to draw meaningful and purposeful links across the different year groups and the topics that they study. The knowledge children acquire is planned explicitly and in detail so that these themes and concepts can be illuminated effectively with examples and case studies which enrich children's' understanding. This knowledge is then complemented by a commitment to the very best and well placed experiential learning in each unit of work and enriching trips and visits. Like each piece of knowledge, the experiences and visits our children are exposed to have been chosen specifically for the value they add to the well planned learning journey our children go through from Reception to Year 6.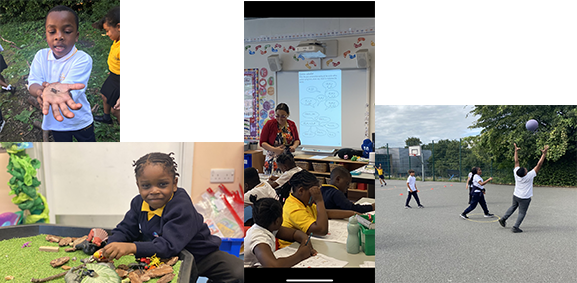 English
At St Matthew Academy Primary we teach English through the use of high quality texts that link to our topic for the half-term. We use fantastic books as a starting point for our learning and develop our understanding of these texts through our English curriculum.
Our writing lessons are focussed on exposing pupils to a range of text types and equipping them with the tools that they will need to write a cohesive and pleasurable piece. Each writing unit will start with an immersive experience that will engage and inspire pupils. Over the course of three weeks, children investigate the features of their text type, learn new writing strategies and editing techniques and produce their own independent piece of writing.
At St Matthew Academy, we deliver a weekly spelling lesson that is in accordance with the Spelling Shed scheme and focusses on age appropriate spelling rules. In addition to this, we send home a range of activities for children's homework and they are tested on these weekly.
We have Phonics, Book and Newspaper Clubs running after school and during lunchtimes to give children another opportunity to enjoy developing their literacy skills, and throughout the year we take part in a range of additional literacy focused activities such as National Book Week.
Click here to see samples of our writing work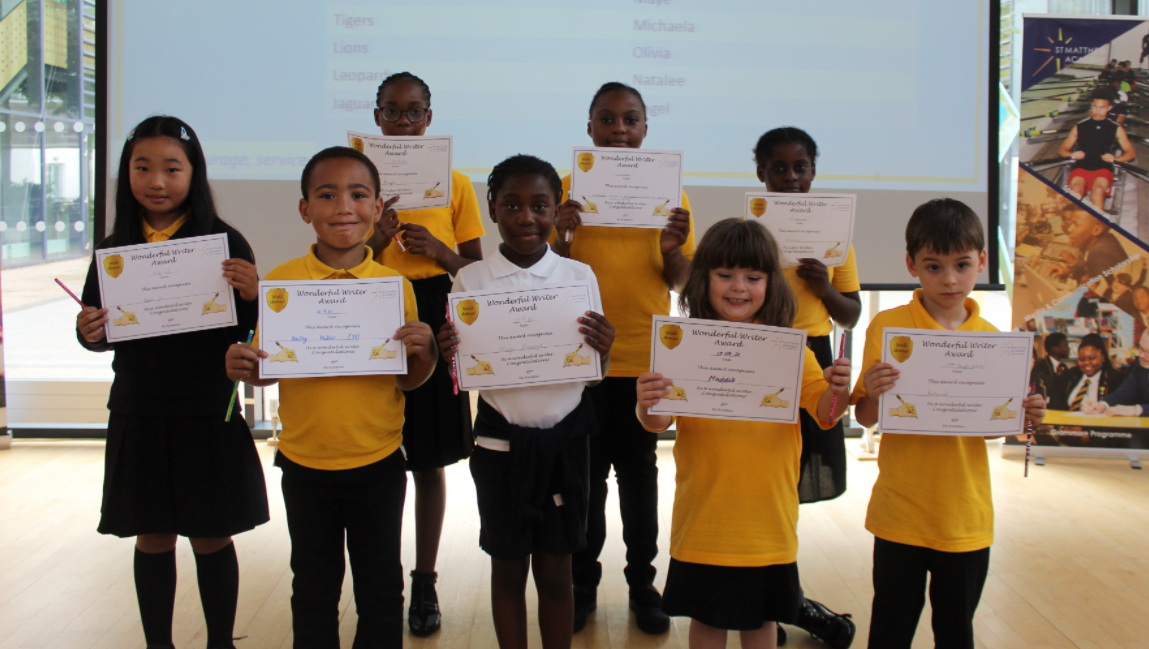 Reading
In the Primary Phase at St Matthew Academy, we believe that reading is at the heart of the curriculum and we aim for all of our pupils to develop a love a reading. We provide children with a range of high quality and diverse texts in their writing and reading lessons that will challenge and inspire them to not only become excellent readers, but also excellent writers.
At St Matthew Academy we aim to ensure that children have a secure understanding of the texts that they are reading alongside being able to answer comprehension questions. All classes partake in regular 'book talk' sessions that equip them with the skills to make connections between texts. Classes also engage in daily reading sessions where they look at different comprehension strategies and how to use these across a range of texts. In KS2, we use the recommendations from Ashley Booth's Reading Curriculum to expose children to different text types that are informative, inclusive and of a high quality. We expect all of our pupils in KS2 to engage with Read Theory - an online, educational platform that offers reading activities for all ages and abilities. The programme adapts to students' individual ability and presents them with thousands of skill building exercises that suit their needs.
In our weekly celebration assembly, we love sharing the progress of all the outstanding readers and writers at St Matthew Academy. Class teachers are able to nominate pupils in their classes who have excelled in either of those areas and they are presented with either the 'Wonderful Reader Award' or 'Wonderful Writer Award'. We also use our Friday assemblies to showcase the excellent work produced by children to staff, peers and parents.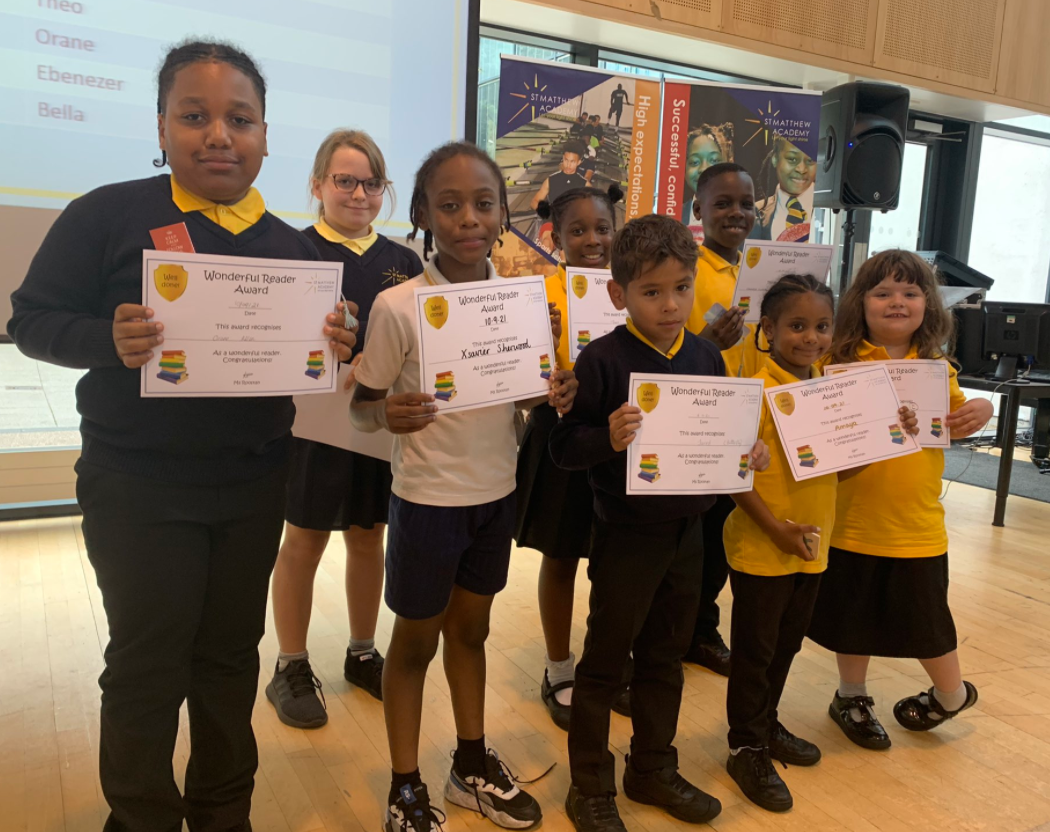 Phonics
At St Matthew Primary, we use the Letters and Sounds phonics programme to plan and teach our phonics sessions. Children take part in engaging and fun phonics sessions right from the beginning of Reception. Children make accelerated progress using Letters and Sounds and by the time they reach the end of Year 2 most children are confident readers.
Maths
Maths at St Matthew Academy Primary Phase is taught every day for at least one hour, and schemes of work are planned to ensure coverage of year group objectives. Maths lessons are planned to be practical and related to real life as much as possible, so true connections can be made. Children are encouraged to use equipment and apparatus when first learning a mathematical concept and then they use this concrete understanding when applying to different written and mental calculations and problems.
Our clear focus on securing fluent understanding of core facts and systems within mathematics means that we are then able to ensure that children are able to make accelerated progress when solving problems and reasoning mathematically.
Religious Education
Religious Education is taught creatively with plenty of opportunities given for pupils to use drama, art, music and movement to explore and express the curriculum. We use 'The Way the Truth and the Life' programme, ensuring that we are following the catechism of the Catholic Church and fulfilling the requirements of the Religious Education Curriculum Directory.
Throughout their time in school, children also learn about the other major world faiths. We believe this is essential because in order to be rounded and informed individuals, children need the opportunity to understand other cultures and religions.
As well as our taught RE lessons, we also have a programme of Collective Worship at class, phase and whole school level, giving the children opportunities to worship, pray and reflect in school.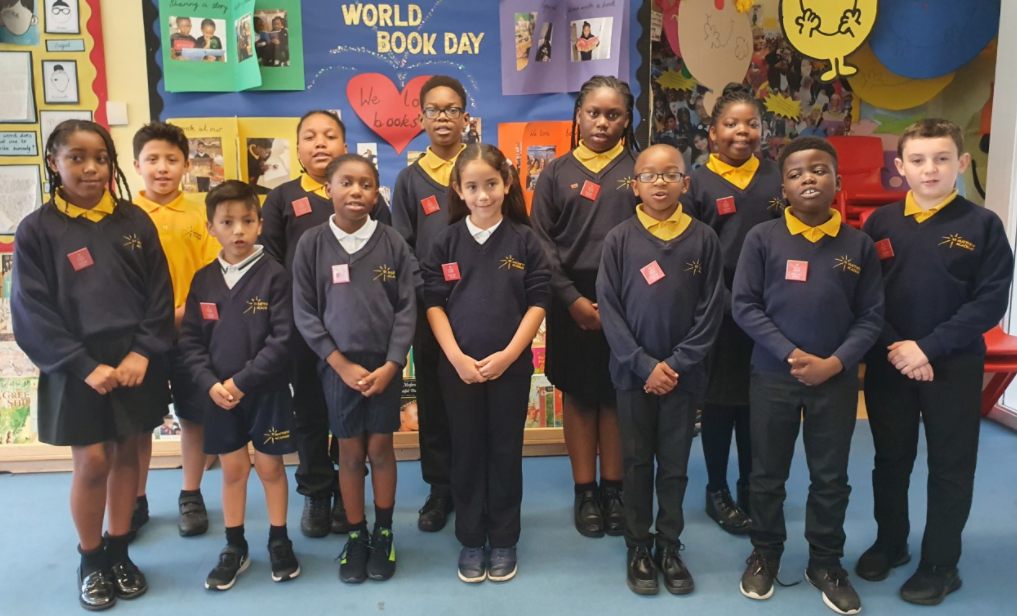 This year's Light Bearers were presented with their new badges and have already started their work of supporting pupils and staff in our collective worship. The children are supporting their teachers by leading the prayers in class and our whole school Feast of St Matthew celebrations saw the primary Light Bearers taking on the important role of reading the Bidding Prayers.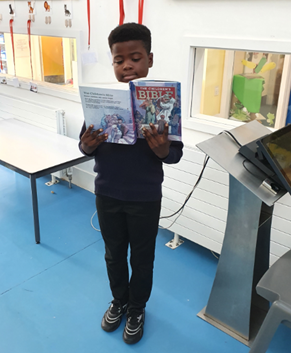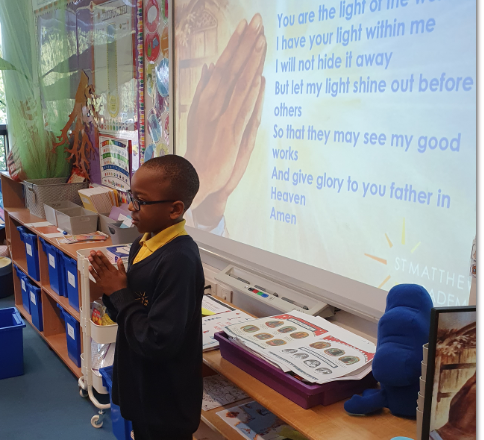 Jigsaw PSHE
At St Matthew Academy, we have introduced a PSHE scheme called Jigsaw to the primary phase. Jigsaw combines PSHE, emotional literacy, mindfulness, social skills and spiritual development.
Jigsaw is designed as a whole school approach, with all year groups working on the same theme (Puzzle) at the same time. This enables each Puzzle to start with an introductory assembly, generating a whole school focus for adults and children alike. There is a Weekly Celebration that highlights a theme from that week's lessons across the school, and encourages children to try to reflect that learning in their behaviour and attitudes.
Jigsaw aims to help children know and value who they really are and how they relate to other people in this ever-changing world.
There are six Puzzles (half-term units of work) each with six Pieces (lessons). Every year group studies the same Puzzle at the same time (sequentially ordered from September to July), allowing for whole school themes and the end of Puzzle product, for example, a display or exhibition (like the Garden of Dreams and Goals) to be shared and celebrated by the whole school. Each year group is taught one lesson per week and all lessons are delivered in an age- and stage-appropriate way so that they meet children's needs. The different puzzle pieces are: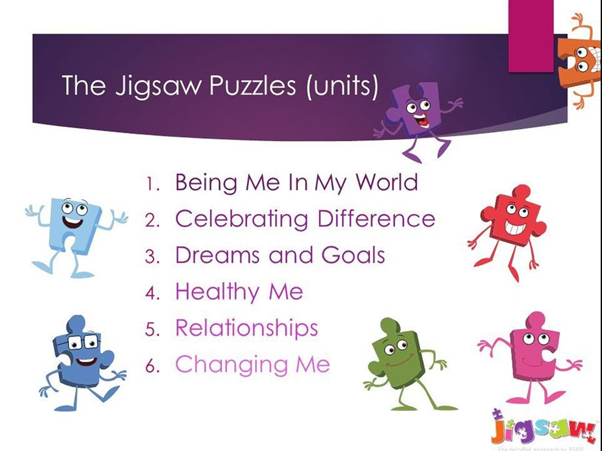 To find out more about Jigsaw please read the Parent/Carer information guide.
Relationships & Sex Education
An important part of the Jigsaw PSHE programme is delivered through the 'Relationships' and 'Changing Me' puzzle pieces which are covered in the summer term.
There are four main aims of teaching RSE:
To enable children to understand and respect their bodies
To help children develop positive and healthy relationships appropriate to their age and development
To support children to have positive self-esteem and body image
To empower them to be safe and safeguarded.
Each year group will be taught appropriate to their age and developmental stage. At no point will a child be taught something that is inappropriate; and if a question from a child arises and the teacher feels it would be inappropriate to answer, (for example, because of its mature or explicit nature), this information with be shared with you by your child's class teacher. The question will not be answered to the child or class if it is outside the remit of that year group's programme.
Below is a summary of RSE coverage within the Jigsaw scheme for each year group:
Foundation Stage - Growing up: how we have changed since we were babies
Year 1 - Boys' and girls' bodies; naming body parts
Year 2 - Boys' and girls' bodies; body parts and respecting privacy (which parts of the body are private and why this is)
Year 3 - How babies grow and how boys' and girls' bodies change as they grow older
Year 4 - Internal and external reproductive body parts, body changes in girls and menstruation
Year 5 - Puberty for boys and girls, and conception
Year 6 - Puberty for boys and girls and understanding conception to birth of a baby
Further information about how the school approaches the teaching of Relationships and Sex Education through the Jigsaw programme can be found within the documents listed below.