Curriculum
At St Matthew Academy Primary we fundamentally believe that all children have the right to access a rich curriculum, which offers the opportunity to explore a wide range of experiences and enrichment prospects first-hand, to develop skills for life.
Pupils learn the International Primary Curriculum; a comprehensive, thematic, creative curriculum with a clear process of learning. It has specific learning goals for every subject, which meets the statutory requirements of the Early Years Foundation Stage Guidance and the Programmes of Study from the National Curriculum in Key Stage One and Key Stage Two. The curriculum places a strong emphasis on pupils' starting points, interests and talents.
English
At St Matthew Academy Primary we teach English through the use of high quality texts that link to our topic for the half term. We use fantastic books as a starting point for our learning and develop our understanding of these texts through our English and IPC curriculum. All children take part in a range of English activities every week including drama, speaking and listening activities, storytimes, handwriting practice, spelling and grammar lessons as well as the more traditional English lessons.
No two days are the same in English lessons and children will be exposed to a range of genres and styles of writing throughout their time at school. We seek to develop a love of reading in all our children and support them in accessing and enjoying all kinds of texts.
We have Phonics, Book and Newspaper Clubs running after school and during lunchtimes to give children another opportunity to enjoy developing their literacy skills, and throughout the year we take part in a range of additional literacy focused activities such as National Book Week.
Reading
Reading is at the core of all children's learning. Without being able to read, children find it very difficult to access the learning in other areas of school and find it challenging to engage with their peers in lessons. At St Matthew Academy, we take reading very seriously! We have made changes to the way we teach reading and have invested in a new reading scheme.
We use the Guided Reading scheme - Project X: Origins, which is a series of books that follows familiar characters throughout, as well as information texts. The texts are linked to our topics, so teachers can plan guided reading to extend topic learning. The scheme was designed with lots of research behind it and has shown a positive impact on reading progression and enjoyment, particularly for boys. The books run from Reception to Year 6 and cover a wide range of themes. Linked to our guided reading scheme, we also use Project X: Code, a reading intervention that supports fast progression for those children who might need more help.
Children learn to read in a variety of ways including reading one to one with an adult, guided reading with an adult, reading related activities and games, comprehension sessions, literacy lessons, role play, class story time etc.
Parents have a responsibility to help their children to learn to read and we expect that all children will read at home with an adult every day.
Phonics
At St Matthew Primary, we use the Letters and Sounds phonics programme to plan and teach our phonics sessions. Children take part in engaging and fun phonics sessions right from the beginning of Reception. Children make accelerated progress using Letters and Sounds and by the time they reach the end of Year 2 most children are confident readers.
Maths
Maths at St Matthew Academy Primary Phase is taught every day for at least one hour, and schemes of work are planned to ensure coverage of year group objectives. Maths lessons are planned to be practical and related to real life as much as possible, so true connections can be made. Children are encouraged to use equipment and apparatus when first learning a mathematical concept and then they use this concrete understanding when applying to different written and mental calculations and problems.
With the introduction of the New Curriculum, there are six main areas of learning in Maths, which include Number, Measurement, Geometry, Statistics, Ratio and Proportion (Year 6 only) and Algebra (Year 6 only).
Religious Education
Religious Education is taught using 'The Way the Truth and the Life' programme. We plan so that R.E is taught creatively with plenty of opportunities given for pupils to use drama, art, music and movement to explore and express R.E
Throughout their time in school, children also learn about the other major world faiths. We believe this is essential because in order to be rounded and informed individuals, children need the opportunity to understand other cultures and religions.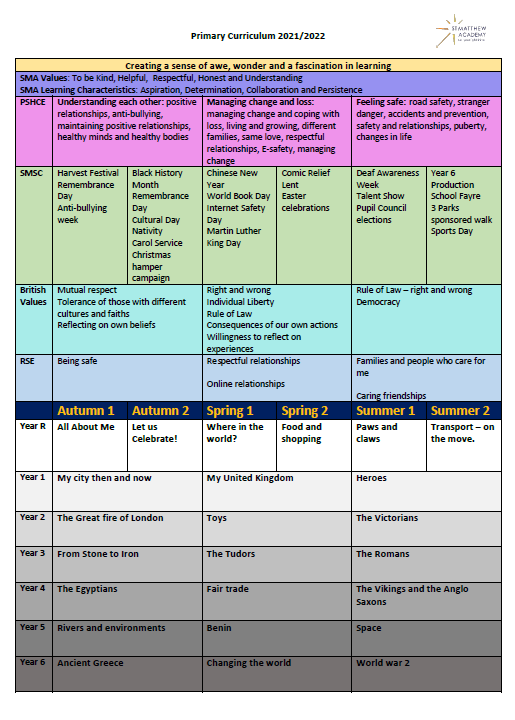 Curriculum Newsletters