Charity Fundraising - The Children's Ward at Lewisham Hospital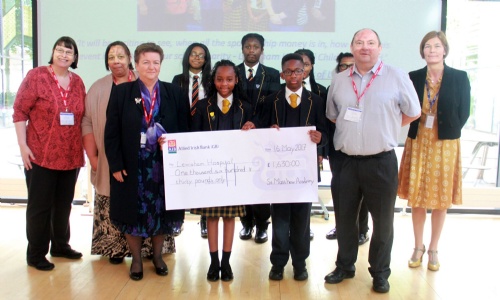 On Tuesday, 16th May, Liz Butler the Chair of the Greenwich and Lewisham NHS and Richard Coles, Modern Matron for Acute Children's Services at Lewisham Hospital, attended a celebratory assembly at St Matthew Academy.
During Lent this year, the St Matthew Academy community have been collecting resources such as toiletries, toys and crockery, as well as raising money for the parents' room on the Children's Ward at Lewisham Hospital in a range of fun sponsored events which culminated in a sponsored 'Bridge Walk' in Central London.
Parfait and Austen from Year 6 together with representatives from Year 10, presented a cheque for £1,630.00 to the Liz Butler in an assembly which celebrated the very best of our community. St Matthew Academy have resolved to raise more money this term for this important charity which is so close to our hearts. If you would like to contribute to this charity, please contact St Matthew Academy or keep an eye on the website for further details.
The cheque was presented in the presence of Mr Cefai, Executive Head; Ms Baldwin, Head of School and members of the Academy's Governing Body.