Ocean Youth Trust Boat Trip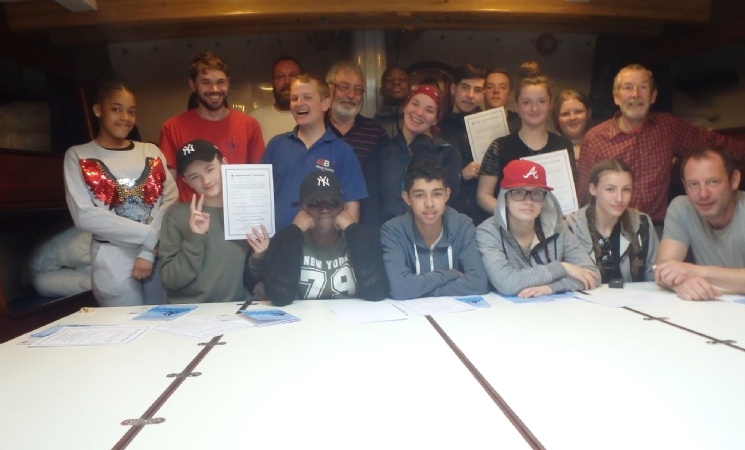 This boat trip was funded by the Royal Naval Reserve at HMS President, for twelve pupils from St Matthew Academy selected by Mr Saunders for hard work and dedication to their academic studies.
Two pupils from year 10 had been before, Libby and Noelia; they had excelled as part of a previous crew and were warmly welcomed back to mentor the other pupils.
The pupils were waved goodbye at Southampton Harbour by Mr Saunders and Mr Stores and they began to go through all the safety drills for their stay on this 'prolific yacht.' They sailed to Studland Bay in light winds on Monday evening and anchored for the night. Next day they set sail for Brixham, but as the wind had dropped earlier than forecast, the crew agreed to stay in Weymouth and do some work on bearings and navigation.
Back in Weymouth that night, the pupils went for ice-cream and on Thursday they sailed back to Studland and then had a trip to the beach. All the group apart from Libby and Noelia (who received their certificates last year) earned their 'RYA Start Yachting Certificates' and also received training in pilotage, basic navigation, meteorology, seamanship, helming, sail handling, anchoring, mooring, rope work, and galley duties.
Pupil Comments:
'A great experience' - Dimitri Madden, Year 10.
'This was my first time sailing and I loved it!' - Sahara Small-Rose, Year 9.
Mr Saunders
Outdoor/PE teacher