SMA Late Summer Fayre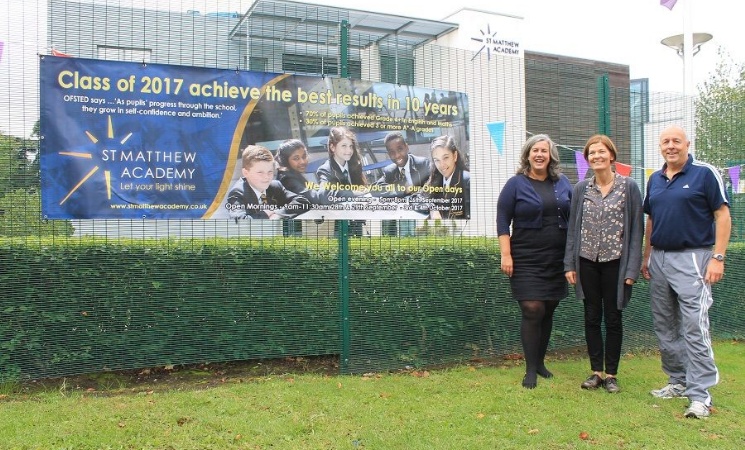 Much to Celebrate at the St Matthew Academy Late Summer Fayre!
With generosity of spirit, 'The Friends of St Matthew Academy' together with Academy staff, to lead our community in a traditional fundraising effort at the SMA Late Summer Fayre, on Saturday, 16th September.
This event was truly about the community coming together to raise money for the Academy's chosen charity, the Children's Ward at Lewisham Hospital, a cause for which pupils and staff at SMA have been raising money over recent terms, and to begin fundraising for a new Academy minibus.
Heidi Alexander MP, an enthusiastic supporter of St Matthew Academy, opened the Fayre at noon with words of encouragement and celebration. Heidi referenced the wonderful GCSE results achieved by the pupils of St Matthew Academy in August – results which were the best in the Academy's history with 70 % of pupils achieving Grade 4 or better in English and Maths. Heidi was followed by Serge Cefai, our Executive Headteacher and then Miranda Baldwin, our Head of School, in welcoming the large number of pupils, staff and members of the local community to the event.
Attractions at the Fayre included traditional games: shuffleboard; guess the number of sweets in the jar and throwing wet sponges at the teachers in the stocks; modern activities such as the giant bouncy cockerel slide (thank you to Parr Estate Agent for their kindness in sponsoring this attraction) and the smoothie bike. There was also an eagerly anticipated raffle, barbequed burgers and sausages, face painting, Lewisham Hospital and Metropolitan Police stalls – in fact a myriad of activities and prizes which any Summer Fayre would have been proud to host.
The final total of funds raised looks like exceeding £2000, a fabulous reflection of the efforts made by two of our Mums and 'Friends of St Matthew Academy' – Gemma Morton and Fiona Forrest – without whom this event simply would not have been possible. Their hard work enthused and galvanised our staff and parents in putting on a wonderful afternoon's entertainment and all for such a good cause!
St Matthew Academy and 'Friends' look forward to hosting more events in support of the Children's Ward at Lewisham Hospital and other Academy goals, in the very near future. Watch this space!