Year 6, 10, & 11's Exams Service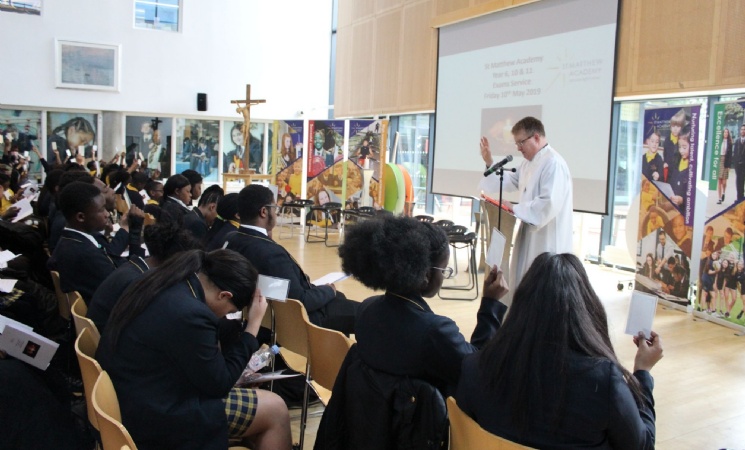 Year 6, 10, & 11's Exams Service led by Deacon Javier Elderfield
The sun was shining in to the main hall where a warm welcome by Deacon Javier greeted staff, Year 6, 10 and 11 pupils for a special Academy Exams Service on Friday 10th May. This is the first year that Year 10 would also be sitting their RE GCSE with Year 11 so the service adopted an added special significance.
A rosary awaited pupils in Year 6 and 11 respectively, whilst a special card was received by all pupils – a copy of a 'Don't quit' card, which contains a prayer encouraging pupils to always stay positive. Pupils have been seen across the Academy donning their rosaries and even using as a form of popular piety.
Mr Charlery and a few members of the Glee choir performed 'Glory' at the service. The song with a contemporary twist was certainly well received by the audience.
Biblical readings and bidding prayers were read by pupils all reflecting on the power and love of God and the impact it has in our lives. Deacon Javier reflecting on the Gospel told pupils 'Still other seed fell on good soil. It came up and yielded a crop, a hundred times more than was sown' was the message in the Gospel. Deacon Javier reminded pupils "You are beginning a new phase of a journey – remember, be diligent in your work, prepare well, be open to accepting God in your lives and you shall always prosper."
Several pupils at the primary and secondary phase led a lovely service of lights and reflection led by Miss Toprak, whilst two Year 10 pupils presented a poem entitled 'I believe.'
Head of School Ms Baldwin delivered a moving address to noting the hard work and dedication put in by both staff and pupils.
After the service, Year 11 pupils walked across to the fields where Director of Learning Mr Lee reflected on the pupils' academic journey in the last year. Pupils were invited to make a wish or hold a personal reflection before releasing balloons into the blue skies of Blackheath. Accompanied by laughs and gasps, I am sure the pupils' wishes will be received by the Lord in Heaven.
A massive thank you to all readers in the service, staff that supported in blowing up two hundred balloons, Mr Charlery and the choir and Deacon Javier for leading a wonderful service. The pupils were truly grateful for the service and the rosaries. The pupils are in good stead to be successful in their summer examinations after the blessing given by Deacon Javier at the service