GCSE Results 2018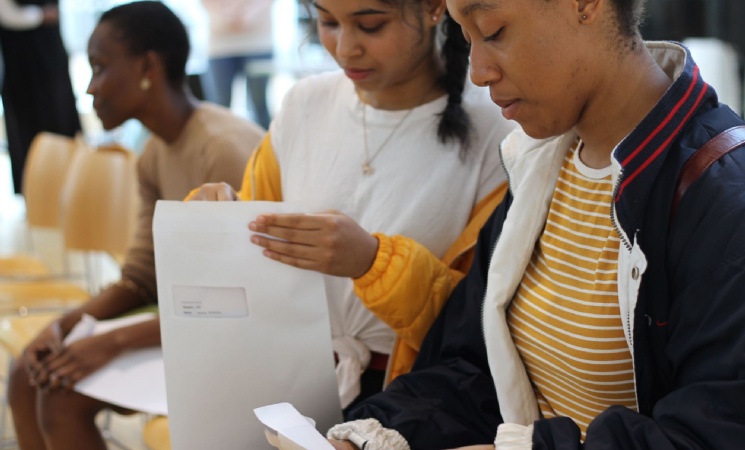 We are incredibly proud of the class of 2018.
Today, we are celebrating phenomenal success in this year's GCSE results, building upon the accomplishments of last year and celebrating the achievement of the most successful results day in the academy's history. The results achieved are the truly-deserved rewards of students' determination and hard work and a testament to the support offered by our dedicated staff body.
Despite the national changes that took place in the grading of GCSE subjects last year, the percentage of students achieving top grades remains impressive, as students proved they have truly encapsulated our promise of achieving excellence, with 72% having attained 9-4 grades including English and Maths and 52% achieving 9-5; an increase on last year's result.
Headline figures this year continue an upward trajectory of success for the academy. In the 2018 examination results, SMA students have excelled. Subject highlights and spectacular individual performances include:
86% of students achieved 9-4 in English Literature and 67% in English Language
74% of students achieved 9-4 in Mathematics
100% of students achieved 9-5 in Biology and Chemistry; 92% attaining the same grades in Physics
91% of PE students achieved 9-4; 81% of History students attained the same grade and 81% in Art and Design
Students achieving grades 9-4 in MFL: 73% in French and 75% in Spanish
Students celebrating A*-C grades: Business Studies 88%; Textiles 88%; Product Design 83% and Media Studies 88%
65% of students achieved 9-4 in Religious Studies
Our highest achiever of the year, Erica, is celebrating an outstanding portfolio of results; 9999998888A*. Crediting the dedication of teachers and the resources that provided support, Erica looks forward to attending St Olaves Sixth Form in September.
Not only did Jessica celebrate her fantastic results including 98877776A*A, but was overjoyed to learn she is one of the students to make the most progress during her time at SMA. As she embarks on her future at college to study History, Psychology and English, we look forward to welcoming her back as a member of our successful alumni.
Director of Learning, Sarah Cefai spoke of the results: "I would like to congratulate our Year 11 students for their hard work and commitment, throughout their journey with SMA. I am overwhelmed by your accomplishments and that you all have the opportunity to prosper in your future pathways as a result. I wish you all the very best of luck as you embark on your next chapter and will miss every one of you greatly!"
Among the many success stories, high achiever Ronan is celebrating his achievements of 88777666666. On receiving his results he said: "the staff at SMA have provided me with the encouragement, support and resources to accomplish my potential. Their sense of care is like no other and makes our school truly unique". He looks forward to completing the IB at Dartford Grammar and pursuing his dream of studying Medicine at University.
Overjoyed students, parents and staff praised the accomplishments of the year group at St Matthew Academy and are looking forward to a successful future, with many students celebrating fantastic post-16 provider placements, including St Olaves Grammar School, Coulsdon Sixth Form College, Dartford Grammar School, St Thomas the Apostle Sixth Form, Sacred Heart Sixth Form and Christ the King Sixth Form.
The students' inspiring results and drive to succeed embodies our academy promise: to enable students to become successful, confident learners; make outstanding achievements through our high standards and cultivate their ambitions to instill excellence for all, in our inclusive Catholic community.
As Head of School, I would offer my congratulations to the class of 2018. I am extremely proud of all students for their achievements and for securing another set of brilliant results, they have built the foundations for their own triumphs from an early point and I am certain they will continue on this journey of success. The results are a testament to their hard work and commitment, and I would like to take this opportunity to thank staff for their ongoing dedication to our students. I would like to wish all students every success in the future and look forward to welcoming you back as part of our exclusive alumni group.
Miranda Baldwin
Head of School