Vinyl Commission at St Matthew Academy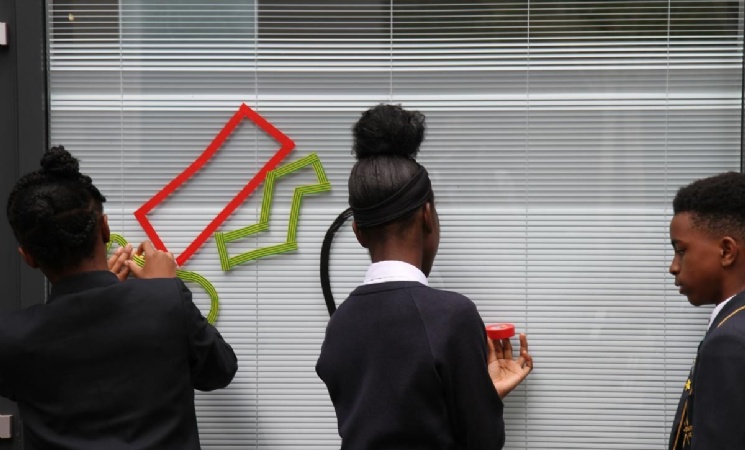 The project brief was to respond to the school environment and the building's architectural features, and to allude to the school motto 'Let your Light Shine'
Anne initially worked with students from upper Key Stage 2 and Key Stage 3 in after-school sessions, delivering workshops that encouraged exploration with new materials. The group started by gathering research and establishing a starting point for the artwork. They explored their school building and outside area (where the final artwork is positioned) through drawing and photography, zooming in to focus on individual elements.
Using this imagery, students then considered architectural shapes and forms using electrical tape, wire, coloured acetate and bamboo. Anne brought students' attention to the light and shadows these materials could offer, linking with the school's motto. The students were encouraged to use windows and floors as a canvas for artworks, allowing the opportunity to work outside of their sketchbooks.
Anne then took the students' artworks, and interpreted these into a number of abstract forms, proposing that the works could be produced in vinyl and attached to the large windows, enhancing the architecture of the internal courtyard space. The vinyl would include a matte and shiny finish, with light shining through the vinyl and making shadows in the building when caught by the light.
A huge thank you to Bow Arts working with us to develop a commissions-based project