Picnic and Praise 2019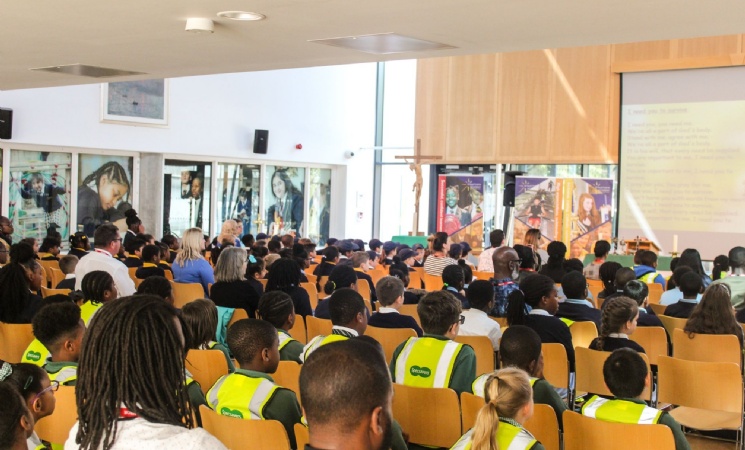 On Thursday 27th June St Matthew Academy hosted its first Picnic and Praise event on behalf of the Archdiocese of Southwark.
This is an opportunity for pupils from schools within the Archdiocese of Southwark to come together as a community, develop faith, worship, explore and learn. The theme for the event was 'Stewardship'.
Approximately 200 pupils attending the event aged 6-11 from the following schools: Holy Cross, Our Lady & St Philip Neri, St. Fidelis, St. Joseph's, St. Matthew Academy, St Saviour's, St. William of York and St. Winifred's Catholic primary schools.
The youth Chaplaincy team 'The Light Bearers' supported with the event by taking ownership of one of the schools and supported throughout the day. Many of our colleagues visiting the school commented positively on the manners and helpfulness of the pupils that supported them throughout the day.
The event began with a lovely reflection from the Chaplaincy Advisor for the Education Commission (Arch Diocese of Southwark) Mrs Elderfield exploring stewardship.
Pupils sang their hearts out practicing two gospel songs which would be used in the Mass later in the day with 'All around' by Israel and New Breed seemingly a popular choice for our young guests.
Mass was presided over by Monsignor Rothon and Deacon Elderfield with Monsignor focusing on our responsibility as stewards to care for God's creation.
The sun shone all day. Pupils ate their picnics and played games on the field in the afternoon. This was followed by a series of creative workshops led by the Art, DT, Food Preparation and RE departments.
It was a fantastic day for all involved. St Matthew Academy would like to thank all of our colleagues that brought pupils from their respective schools to the event, our youth chaplaincy team, admin staff and teachers that led a session in making Picnic and Praise 2019 a blessed and successful event