Year 9 History Pupils explore their Family history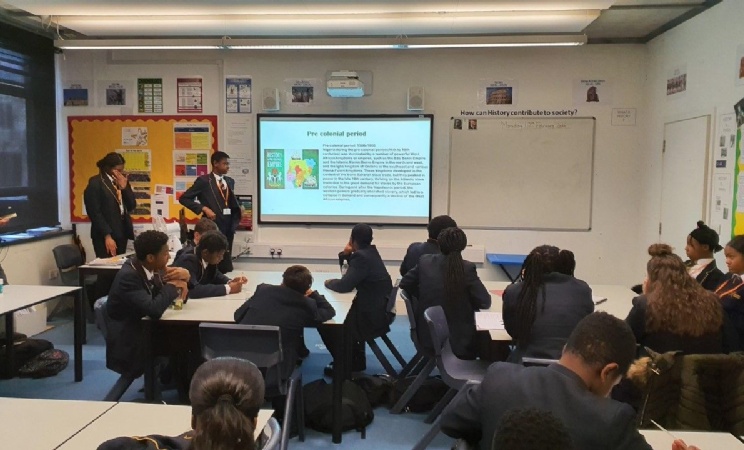 Year 9 pupils have been working with David Holloway, from the Ideas College, putting together presentations on their family histories and the theme of migration stories. They did lots of research over many weeks into their family history, finding out about the countries their ancestors originated from, the colonial and post-colonial histories of these countries and their links with empire and Commonwealth.
We wanted to engage them with history and understand that history is as much about them as it is about famous people from the past; that their stories should be heard. Many of them were also able to ask their parents and families for information which made their presentations all the more interesting because of the personal stories that were told.
Many presented their final work to their peers on what they had discovered about the histories of the USA, Jamaica, Nigeria, Ghana, Sierra Leone, Uganda, Ireland as well as many other countries in Europe, Asia, Africa and the Americas that they have family connections with. For many who presented, this was a huge challenge to stand in front of friends and peers and talk about personal stories; those who did so overcame their fears, pushing themselves out of their comfort zone and spoke with confidence and pride in their heritage which was an absolute pleasure to hear. A huge well done in particular to Miah, Chayse, Abubakar, Jasmine, Lauryn, Paris and Grace for having the courage to do so.
We will continue to work with David to develop some of these histories in more detail and hopefully work with the Migration Museum which is moving to Lewisham as well as other organisations that we have discovered as part of our work on the project. Thank you to all who helped the pupils, parents, carers and families. A huge thanks is also owed to Ms Livingstone for taking on this challenge in her first year as a history teacher and to Ms McFarlane who provided so much encouragement and support to the pupils.
This is the second year we have worked with David on this project and I look forward to continuing this work with him over the coming months.