So proud of our Class of 2022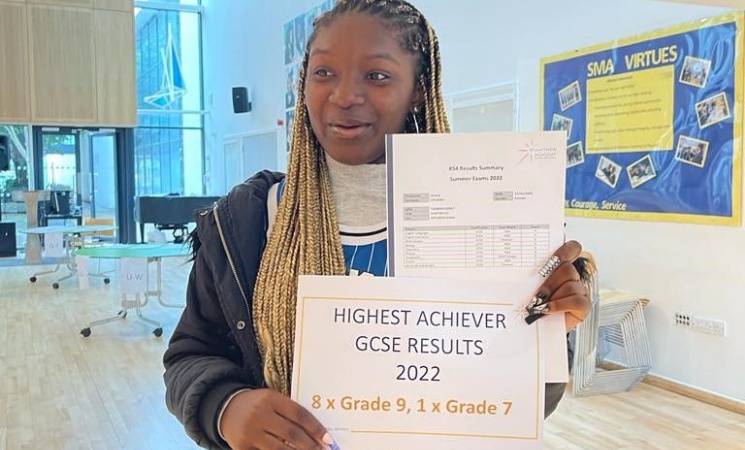 We are proud to celebrate the success and hard work of our Year 11 pupils receiving their GCSE results today. As the first year group to complete external GCSE exams in three years, it has been a period of challenge requiring lots of hard work and determination.
Tanitoluwa Soyombo achieved 10 Grade 9s and 1 Grade 8, having studied Further Maths as an extra GCSE. Tani is now looking forward to studying Economics, Maths, Spanish and Politics at Newstead Wood Grammar School in Orpington. Omeyi Shuaibu achieved 8 Grade 9s and 1 Grade 7 and will be going to St Thomas the Apostle to study Biology, Chemistry and Maths. When speaking about her fantastic results Omeyi said "I am so proud my hard work has paid off. I would say my success came from using online resources and listening to all the advice from my teachers. To anyone doing exams next year my advice would be don't let anyone tell you what you can or can't do. You are the owner to your success and you can do anything you put your mind to".
Shekinah Abuwa opened her results with a beaming smile as she read out 5 Grade 9s, 4 Grade 8s and 1 Level 2 Distinction. She will be joining Omeyi at St Thomas the Apostle to study Biology, Chemistry and Psychology. When asked how she achieved such excellent results Shekinah said her science teacher inspired her and helped her to believe in herself "today has proved that anything is possible and I thank God for the gifts he gave me". We would also like to congratulate Haja Konie who achieved the greatest progress in the year group. Haja achieved 2 Grade 9s, 5 Grade 8s and 3 Grade 7s. Haja said "I want to thank my teachers for noticing my hard work and reminding me it was worth it. They helped me when I found things difficult and I will never forget that. I also thank God for everything". Haja will be studying Biology, Chemistry and Maths at St Thomas the Apostle.
Year 11 Director of Learning, Victoria Dunne spoke of the results: "Today has been such a lovely day to see pupils open their envelopes with pride. It was lovely to see so many celebrations with friends, family and teachers. Year 11 have worked so hard, and overcome so many obstacles to get to where they are today. I will never forget the class of 2022, and wish them all the very best in the future!"
We look forward to our pupils letting their light shine in the local community and further afield, with pupil receiving offers from Christ the King, Sacred Heart, St Thomas the Apostle, Thomas Tallis, Newstead Woods Grammar, Eltham Girls, Beths Grammar and many more.
Miranda Baldwin, the Academy Headteacher said: "We could not be prouder of our Class of 2022 especially after the challenges they have overcome during their GCSE studies. Our teachers have worked tirelessly to ensure pupils are all able to progress onto post 16 studies of their choice, and we look forward to seeing what they will achieve in the future. The governors and I would like to extend our congratulations to our amazing resilient pupils and sincerely thank our families for the support they gave their children to enable them to let their light shine. Of course, we must also thank our talented and dedicated staff for their hard work and commitment to the pupils they teach. Well done everyone."