Staff Twilight – Equality and Diversity CPD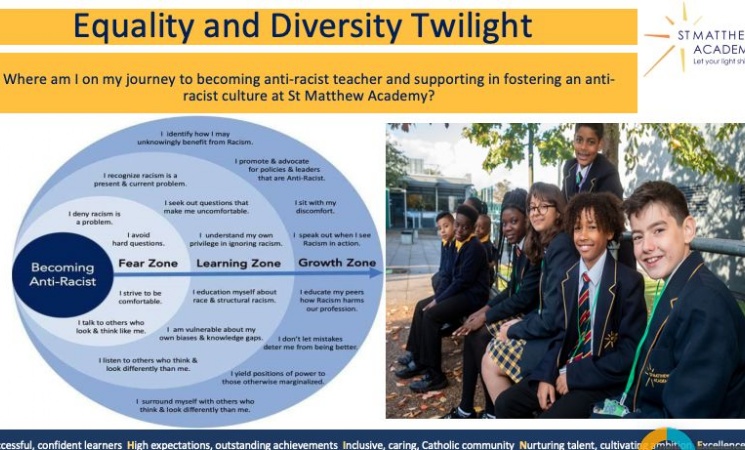 At St Matthew Academy we are committed to ensuring equity and diversity pervades at every level of Academy life. As such, on Tue 19th Jan, members from the Equality and Diversity team led a Twilight session to follow up on the thought-provoking and an insightful session led by Hayley Bennett (Equality, Diversity and Inclusion consultant) on race, equality, equity, diversity, and inclusion. The session sought to help staff implement effective strategies and information shared when considering their own teaching practice and adapting the curriculum when addressing themes such as race, representation, diversity, and inclusion.
The session also endeavoured to encourage staff to immediately start thinking about how they can demonstrate a clear commitment to the SMA Equality and Diversity Curriculum statement through our learning and teaching practice as well as all staff contributing to fostering an anti-racist culture at St Matthew Academy.
Our SMA Equality and Diversity Curriculum Statement of Commitment is as follows:
'We are committed to embedding equality and diversity throughout our pupils' learning experience, ensuring that our teaching and learning resources, content, and modes of communication celebrates our diverse backgrounds and challenges all forms of discrimination, including racism.'
Two insightful sessions were delivered with a focus on embedding representation in our teaching with a focus on positive role models and creating a brave space to facilitate purposeful discussions around race, race relations, equality, and diversity. The session was well received by staff.
A massive thank you to Ms Bryan, Miss Ahima and Mr Umekwe for their support in planning and delivering an enriching CPD Twilight session and the wider Diversity Team for their continued support. We look forward to implementing the next steps within the Academy, in particular ensuring that the resources used within our curriculum have an accurate representation that reflects the diverse pupil cohort. We are also hopeful that we will soon be in the position to implement our brave spaces in the classroom.