New Pupil Leadership Team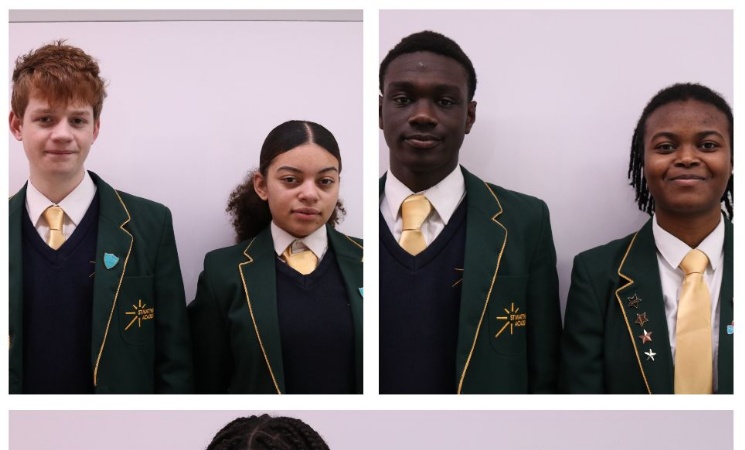 On Friday 6th November we virtually announced our new Pupil Leadership Team. Congratulations to the following students:
Mandela
Teresa
Romero

Lucy Grund

House Leader

Sebastien Whitehead Deputy House Leader

Abigail Olabode

House Leader

Mollie Forrest

Deputy House Leader

Kwakye Osei

House Leader

Elizabeth Obukohwo Deputy House Leader

Prefects:

Joshua Whitehead

Kamron Lawal

Thias Lopez Orbegoso

Oprah Taiwo

Kadina Charlton

Cheyanne Fearon

Denesh Thavaraja

Franklina Sesay

Kai Shaw

Demilade Alabi

Priscilla Mitange

Jadesola Oladapo

Prefects:

Charley Spaulding

Mira Richard

Carmel Masasu

Radu Dragut

Temiloluwa Adebayo

Edison Molina

Jethukulan Prabakaran

Allayah Pryce

Prefects:

Alisha Aikoroje

Daniel o Christopher

Syrrio Mashrie Ramator

Kimberley Willson-Owusu

Shemmy Adepoju

Eva Torres Lopez

O'Mari Chambers

Vedish Gurung
Pupils were thrilled to receive their gold ties and badges which they can wear with pride as they prove themselves as excellent role models and great examples of our SMA values in action!
In the Primary phase, we also announced our new House Leaders and Deputy House Leaders. Congratulations to the following students:
Mandela
Teresa
Romero

John John-Okoro

House Leader

Minnesota Uju

Deputy House Leader

Fodun Olanewaju

House Leader

Dammy Smith

Deputy House Leader

Abraham Wilson

House Leader

Kiril Ognyanov

Deputy House Leader
A special well done needs to go to all our applicants for House Leader, who went through a challenging interview and virtual campaigning process to demonstrate their suitability for the role.