INSET – Equity and Diversity CPD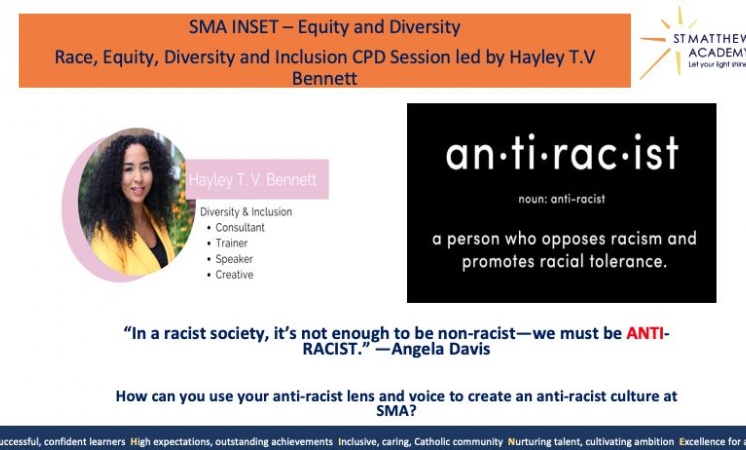 At St Matthew Academy we are committed to ensuring equity and diversity pervades at every level of Academy life. We endeavour to embed equity and diversity throughout our pupils' learning experience, ensuring that our teaching and learning resources, content and modes of communication celebrates our diverse backgrounds and challenges all forms of discrimination, including racism.' Since June 2020 the Equality and Diversity team have worked with staff and external providers to promote equity and diversity. Feedback from staff indicated that in order for the Academy to truly promote and drive equity and diversity within the Academy, a commitment to delivering high quality CPD relating to race, race relations, equity and diversity was imperative.
Therefore on the 4th January the Academy welcomed Hayley Bennett albeit virtually to lead a CPD session on race, anti-racism, equity, diversity and inclusion.
Hayley is a multi-award-winning Diversity and Inclusion Consultant and equality campaigner. Hayley has a background in both anti-racism and corporate diversity and inclusion and in 2020 she set up her own consultancy to support equity and diversity within business, sport and education. Her passion for inclusion in sport led her to co-found Nutmegs, a growing football community for women of colour and non-binary people of colour and she was recently named one of the most influential Black people in football.
Hayley led an inspiring, engaging and informative CPD session which will only serve in supporting the work of the Equality and Diversity team, upskilling and developing the knowledge of the whole staff body on themes pertaining to race, ant-racism, equity, microaggressions, diversity, and inclusion and supporting the Academy in striving to ensure equity and diversity permeates throughout SMA.
Although the session was delivered virtually, Hayley's passion was indubitable. The somewhat intimate virtual session evoked thought provoking moments, opportunities for reflection and a sharing of lived experiences amongst staff. The powerful message of fostering and embedding an anti-racist and inclusive culture at the Academy resonated with all staff. Staff also welcomed the use of Mentimeter – an interactive presentation tool that allows users to engage their audiences in real-time. Staff made some insightful contributions using the tool in which they posted their lived experiences and views on various aspects including racism.
A massive thank you to Hayley for delivering an enriching CPD session and we look forward to working with you in the future.