Innovation Day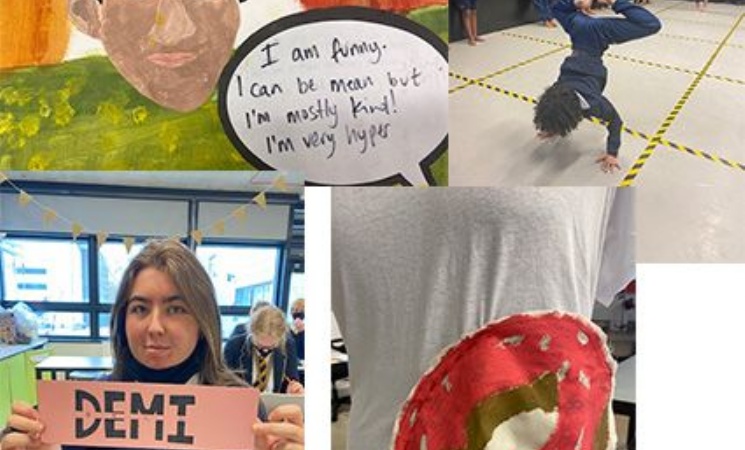 SMA Innovation Day - Friday 26th March
We were super excited to host our second Innovation day across the academy on Friday 26th March. Our Innovation days complement our curriculum, it is an opportunity for the SMA community to come together, do some big thinking on a global or national issue and use the arts to fully immerse all pupils in discussion and creative thinking and making.
The theme of this innovation day was 'I am'- the focus was on introspection, looking at ourselves within our community and aspects of our own identity.
The day began with an amazing performance from visiting Spoken word poet, Kenny Baraka, he wrote a piece especially for SMA pupils entitled 'I am' This was streamed live to the whole academy. Then, the Year 10 music pupils were lucky enough to spend the rest of the day working with Kenny and they performed their piece to the academy at the end of the day.
The sense of personal identity and uniqueness that a name gives us is at the heart of why names interest us and why they are important to us as individuals and to our society as a whole. During lesson 1 ALL pupils and staff engaged in an activity titled 'The power of name' Pupils were asked to research the meaning of their names, this led to really lively discussions about our own names and what they mean to us. Names were then designed and decorated ready for a public art piece which will be shared very soon so watch this space!
Pupils in Years 7&8 participated in exciting workshops in their carousel lessons, these included:
Spoken word workshops in drama
Collaborative music piece using the song 'I am giant' as a stimulus
Capoeira and street dance workshops with Step Into dance
T shirt printing and design in textiles
Protest boards designing and making in DT
Cultural food challenge
Face collage in Art
Name animation workshop in Computer science
Our media scholars were busy bees all day and have gathered a huge amount of footage that we will make into a dynamic video which we will share later this week.
Check out our twitter feed for more images and videos!
So… what does your name mean? Why don't you find out?