Celebration of the Feast of St. Matthew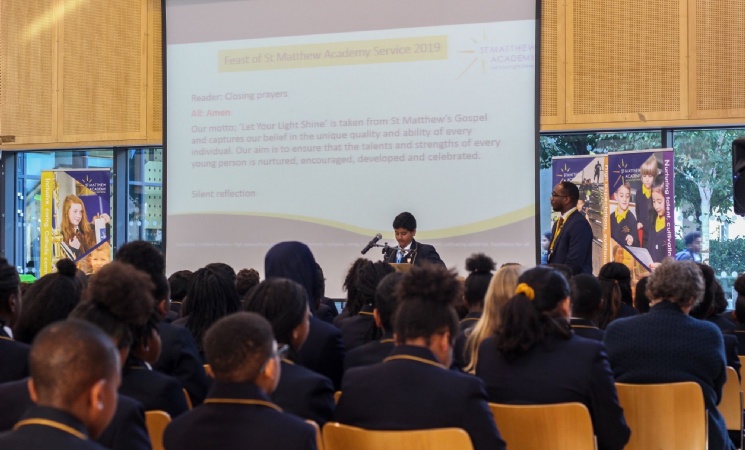 On Friday 20th September, the Academy celebrated the feast of St. Matthew
The apostle, evangelist and patron saint of bankers and the Academy. The Gospel According to Matthew masterfully makes that connection between the Old and the New Covenant.
The gospel today remembers the call of Matthew as one of the twelve disciples that Jesus invited to walk with him and to be part of the astounding message of hope, healing and wholeness that characterised Jesus' words and actions.
The down-deep healing of Matthew reminds us of the magnificence of God's love through Jesus. Can we respond to the call with an instant and positive response that the apostle Matthew exhibited? His journey from sinner to disciple can be a mirror of our own response to Jesus. The grace of recognising our own sinfulness and opening ourselves up to the rescuing presence of Jesus in our lives truly is a miracle created by a merciful and gracious God.
There were three services throughout the day beginning with Year 7 and 8. The secondary services were led by the Chaplaincy Team and the Light Bearers. At the primary phase, primary pupils took a lead on delivering the service. All pupils spoke eloquently. Christine in Year 10 performed a song on the piano, showcasing her talent which encapsulates the Academy motto of 'Let Your Light Shine.'
All pupils completed a Feast of St Matthew quiz and received a sweet treat in the afternoon as a gesture to recognise the Feast of St Matthew, which is celebrated on 21st September.
We look forward to celebrating the Feast next year! Happy St. Matthew Day 2019.